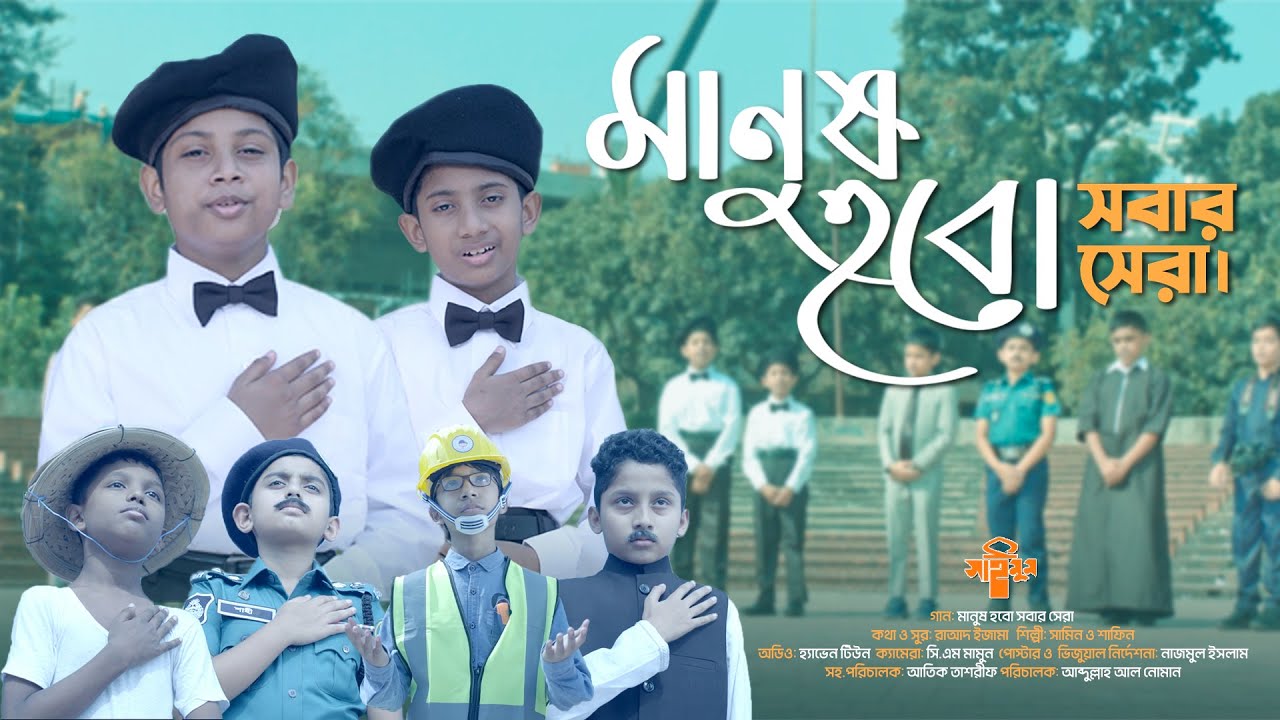 Manush Hobo Sobar Sera lyrics মানুষ হবো সবার সেরা লিরিক্স | Saimum
Manush Hobo Sobar Sera lyrics মানুষ হবো সবার সেরা লিরিক্স | Saimum
Manush Hobo Sobar Sera lyrics মানুষ হবো সবার সেরা লিরিক্স | Saimum. I Hope you will enjoy our exclusive Hamd, Naat, Islamic Nasheed, Bangla Islamic Gojol, islamic Gojol, more Islamic Songs and video on our Youtube channel. Don't forget to subscribe "Holy Tune"
We provide all Islamic Hamd, Naat, Islamic Nasheed,Bangla Islamic Gojol, islamic Gojol. Some time we singing gojol. If you a writer of gojol hamd, naat You can writh your gojol on our website without any cost and you get a dofollow bank link form gojol.org . Our website all of islamic strategy purpose Used.
SONG: MANUSH HOBO SHOBAR SHERA
LYRIC & TUNE: RAAD EZAMA
ARTIST:
SAMIN HASAN
SHAFIN HASAN
CO-ARTIST:
ABDULLAH, SHAHI, NUWAISIR, ZAREER, RAIYAN, NAFI, SHOAIB, NABIL, AL-RAFI, TALHA
AUDIO: HEAVEN TUNE STUDIO
AUDIO COMPOSER: SALMAN SADIK SAIF
CAMERA: CM MAMUN
EDIT & DIRECTION: NAJMUL ISLAM
COLOR: JAWAD
CHILD CO-ORDINATOR:
NIAMUL HOSSAIN
MANSURUL HAQUE TUSHAR
MANAGEMENT:
AK JILANI
TALHA JUBAER
SAYEED SUMON
JAHEDUL ISLAM
ATAUR RAHMAN
HADIUZZAMAN BULBUL
MORSHEDUL ISLAM
OMAR FARUQ ABIR
ASS.MANAGEMENT:
TAMJIDUL ISLAM
MAHMUDAN NABIN
IT MANAGEMENT:
FAISAL AHMED
SAIFUL ISLAM
SPECIAL THANKS:
SALAH UDDIN AYUBI
RASHEDUL ISLAM
MUJAHIDUL ISLAM
& ALL EX. DIRECTOR OF SAIMUM.
LOCATION: SOHRAWARDI UDDIYAN
ASS.DIRECTOR: AATIK TASHRIF
DIRECTOR: ABDULLAH AL NOMAN
মানুষ হবো সবার সেরা
কথা ও সুর: রাআদ ইজামা
শিল্পী: সামিন ও শাফিন
মানুষ হবো সবার সেরা লিরিক্স
করবো না পাপ কোনো মতে
জীবন হবে আলোয় ঘেরা—
থাকবো মুস্তাকিমের পথে!
মানুষ হবো সবার সেরা -1
"প্রতি ক্ষণে আল্লাহ তায়ালার
স্বরণ রাখবো আমার মনে,
আযাযীলের প্ররোচনা
ঠাই দেবো না মনের কোণে—"1
ছড়িয়ে দেবো দ্বীনের আলো
সেই আলোতে হাসবে ধরা
করবো না পাপ কোনো মতে
জীবন হবে আলোয় ঘেরা
থাকবো মুস্তাকিমের পথে!
মানুষ হবো সবার সেরা
"ধারণ করবো মনের মাঝে
আল কোরানের অপার আলো
আলোর পথের পথিক হবো
যে পথে নেই আঁধার কালো"1
মন্দ কাজকে পায়ে পিষে
গড়বো ভালোর বসুন্ধরা
"করবো না পাপ কোনো মতে
জীবন হবে আলোয় ঘেরা
থাকবো মুস্তাকিমের পথে!
মানুষ হবো সবার সেরা" 1