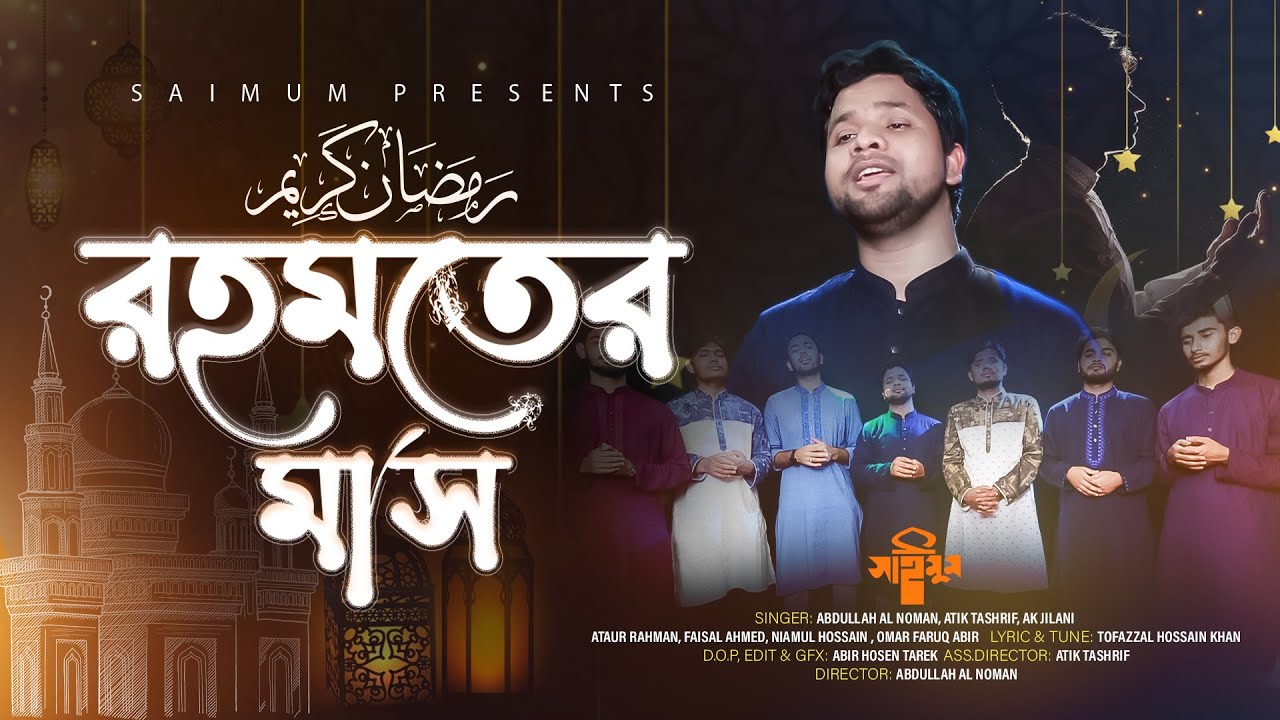 রমজানের নতুন গান | রহমতের মাস | Rohmoter Mash with lyrics | রমাদান | রোজার গান | Bochor ghure elo fire | Ramadan
রমজানের নতুন গান | রহমতের মাস | Rohmoter Mash with lyrics | রমাদান | রোজার গান | Bochor ghure elo fire | Ramadan
Saimum Shilpigosthi Official is one of the most popular Islamic Hamad Naat and Bangla Gojol sharing organizations. There are many people involved in Gojol without the benefit of the organization. Rohomoter mas with lyrics and Gojol published.
Saimum Shilpigosthi has a verified youtube channel. You can visit the first link of the channel. thanks.
রহমতের মাস | Rohmoter Mash
কথা ও সুরঃ তোফাজ্জল হোসাইন খান
Rohmoter Mash with lyrics
বছর ঘুরে এলো ফিরে
রহমতেরই মাস আবার
পাপের গ্লানি মুছে দিতে
সুযোগ দিলেন পরওয়ারদিগার।।
আমরা সবাই পাপ দরিয়ায়
ডুবে আছি উপায় কি হায়
তুমি বিনে আর কে জানে
চাই নিশিদিন ক্ষমা তোমার।।
রহম করম মাগফিরাতের
আল-কোরআনের মাস
দিন থাকিতে নে গুছিয়ে
কর ওপারের চাষ।
ভ্রান্ত পথের গ্লানি ভুলে
আয় কোরআনের ছায়াতলে
নাজাতের মাস যায় ডেকে যায়
হারাসনে তুই সুযোগ অপার।।
SINGER:
ABDULLAH AL NOMAN
ATIK TASHRIF
AK JILANI
ATAUR RAHMAN
FAISAL AHMED
NIAMUL HOSSAIN
OMAR FARUQ ABIR
LYRIC & TUNE: TOFAZZAL HOSSAIN KHAN
AUDIO: DIVINE STUDIO
EDIT & COLOR: ABIR HASAN TAREK
MANAGEMENT:
AK JILANI
TALHA JUBAER
SAYEED SUMON
JAHEDUL ISLAM
ATAUR RAHMAN
HADIUZZAMAN BULBUL
MORSHEDUL ISLAM
NIAMUL HOSSAIN
OMAR FARUQ ABIR
IT MANAGEMENT: FAISAL AHMED
SPECIAL THANKS:
SALAH UDDIN AYUBI
RASHEDUL ISLAM
MAMUN HOSSAIN
OBYDUR RAHMAN
& ALL EX. DIRECTOR OF SAIMUM.
ASS.DIRECTOR:
ATIK TASHRIF
DIRECTOR: ABDULLAH AL NOMAN